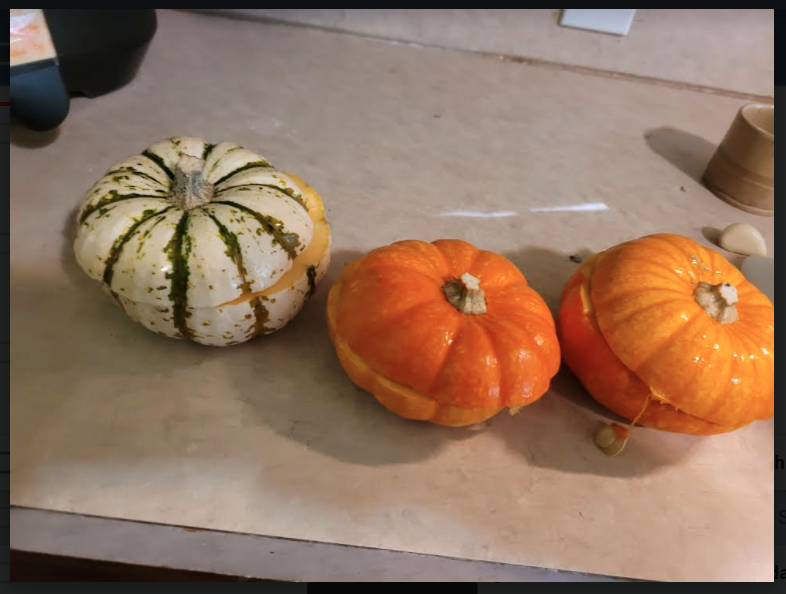 So I mentioned here that Meijer was out of pumpkins the day before Halloween. So I bought little ones. I didn't help much on the trick or treating. Eileen used these little pumpkins as a bit of a decoration garnish I suppose in lieu of our usual Jack O Lanterns.
This morning I was wondering if they were edible. The Interwebs tells me they are. So I am going to cook them up.
Recipes I looked up online suggested stuffing them. I am cooking up a batch of mushrooms, onions, and garlic to stuff them with.
Plus the seeds are edible like usual pumpkins. I am planning on roasting them up as well.
I am feeling a tad better this morning. I slept hard. I also suspect that getting back to exercising is helping my over physical well being. Hey. It can't hurt to move around.
C. P. E. Bach suffered from gout for forty years. I figure I can suffer with a rash until Monday (if not longer). I started reading C. P. E.'s letters this morning. He hated the portrait above. He said that it was "anything but a good likeness and more resembles someone sleeping than awake."
When dissent is all there is, Ruth Bader Ginsburg shows the way.
ACLU has an idea "Rather than think of homelessness as a condition, the authors argue, lawmakers should protect those who live on the street in the same way that the Constitution and California law protect groups based on race, gender or religion. The report calls for "state legislation prohibiting discrimination based on housing status."
Time to stop and go have lunch.