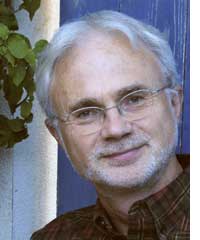 In this John Adams interview about his new autobiography, you find out the genesis of his piece, "Harmonliere."  He compares Edward "Rise and Fall of the Roman Empire" Gibbons's sentences to Mozart. He mentions John Coltrane's "A Love Supreme," as an example of a "40 minute exhalation of raw feeling." 
 

What does "Doctor Atomic" say to us today?

I'm not sure what "Doctor Atomic" says. And maybe that's a good thing. Because in composing this opera about the creation of the atomic bomb, I lived with the historical material, reading dozens of books, and talking to experts, and to this day I don't know if it [dropping the bomb] was the correct thing to do. There are many people who think it was a profoundly morally wrong thing to drop that bomb. There are other people, including scientists who worked on the Los Alamos project, who say that we would have been facing the further death of a million people if we had to invade Japan. So these are imponderable things.

But people are lazy now. Particularly Americans are lazy. We want to receive all our information in sound bites and have somebody else do the thinking for us. When I was growing up, nuclear weapons were on our minds all the time. We were keenly aware of the possibility that the earth could simply blow up in a nuclear holocaust. And now it's like a joke, like George Bush looking under the desk for those nuclear weapons. When people have written to me or come up to me and told me how deeply affected they were by attending "Doctor Atomic," it's because it not only made them think but it made them feel. 

 
He also mentions that the Met's Peter Gelb has commissed Osvaldo Golijov to write a new opera.