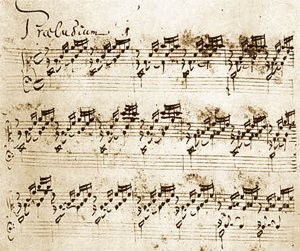 When I asked the audience at my Mom's nursing home yesterday if they recognized Bach's famous Prelude in C from WTC I I had just played for them, a woman in the back shouted out rather curtly in the manner of the elderly, "Of course! It's 'Ave Maria.'" I told her she was right, but that the melody of Ave Maria was by another composer, Gounod.
I then sat down and played the theme from Scheherazade and asked if anyone knew it.
I remember hearing this in my childhood which was not particularly well informed artistically. The old guitar playing smoker whom I often greet in the halls said in a critical growl, "Days of our lives!"
I take it he didn't like it. Undaunted I reminded them of the story of Scheherazade ("Arabian nights") and then identified and played the themes for the princes and the prince.
Without a comment I launched into "Habanera" from Carmen.
I was winning them over. After identifying Bizet to the audience I played "The Syncopated Clock" by Leroy Anderson.
I figure it's a Lawrence Welk type tune and would amuse them.
I finished off with a Reader Digest's version (literally I was playing from one of those Reader Digest's anthologies) of Rhapsody in Blue.
Then I launched into a series of popular songs, then finished up with hymns. By the time we were done many were singing along. If you ever need an ego boost this is a good volunteer gig. The people who are coherent (about half?) are lavish in their praise.
Earlier in the day I cut orchestral sections of the Bach cantata movement in my rehearsal. I figured out I took out about one fourth of the piece and didn't remove any of the choral sections. This should make this a bit more appropriate for use in my situation.
I received the organ demonstrator pieces I ordered in the mail. At first glance they don't look terribly exciting. I will play through them and hope that the music sounds better than it looked.
Having an 8:30 AM class curtails the lazy mornings I like to get up early and enjoy. Gotta skate.
*********************************************************************