So the daughters rented a dumpster and we spent a good portion of the morning filling it with damp junk from our basement.
I knocked off around 10:30. By noon it was filled and on its way.
Most of the debris was from one room where we had stored stuff that was Elizabeth's and Sarah's. Unfortunately we learned later we had also thrown out some of Eileen's grandmother's old chairs. We rationalized that they were probably moldy. They probably were. But we did manage to accidentally throw away some stuff Eileen didn't want us to (I found out this morning). The worm farm. Some other things. All replaceable (I hope)>
Elizabeth made this cool collage of pics.
I was sore right after doing the work but this morning I feel rested and relaxed. I did manage to treadmill a bit. Not the full 45 minutes but still the 35 minutes I managed to get in seems like a good amount for a busy day. I quit because I was beginning to feel quite tired.
Sarah pulled her neck even before we started hauling trash out of the basement. By the evening she was laying in her room in the dark trying to rest up for going out to eat. Elizabeth walked over to Shaker Messenger to buy gifts to take home to China. I tried to convince Sarah it was not necessary to go out. We could just order in. But she seemed to want to go out. So we three walked over to greet Eileen after work and we drove to CitiVu for drinks and dinner.
Good times.
Earlier in the afternoon I rehearsed Mendelssohn with my piano trio.
We have taken to rehearsing well under tempo. This helps me, but I suspect it's not as satisfying to the other players. I think we are going to learn a couple new movements: the first movement of the C minor and the Finale of the D minor. Of course we are always saying shit like this in rehearsal. However I came home and rehearsed the C minor movement. They will require some serious practicing. Rewarding both to rehearse and perform.
Near the end of our rehearsal the organ guy showed up to tune and repair the organ. He said it would take him a bit of time to get going and gave us ten more minutes which coincided nicely with our usual allotted time. We continued rehearsing Mendelssohn.
Later I chatted with him. He mentioned that he enjoyed listening to us rehearse and that he actually enjoyed listening to musicians rehearse more than perform.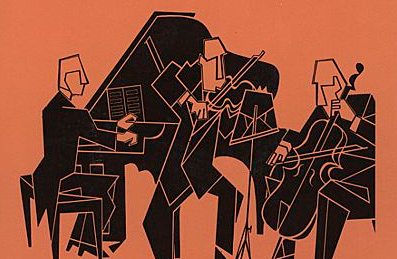 ****************************************************************************************

I haven't had a chance to listen to/watch this. But I remember being curious when it was happening. Unable to listen because of copyright restrictions. I guess outtakes are okay. Cursed Pirate Girl is the work of Jeremy Bastian who is married to my lovely niece Emily.
****************************************************************************************

Supreme Court Justices discussing unicorns. Doesn't get any better.
****************************************************************************************
A colleague of mine on Facebook put up a video by this Australian comedy music group I had never heard of. They are kind of funny.