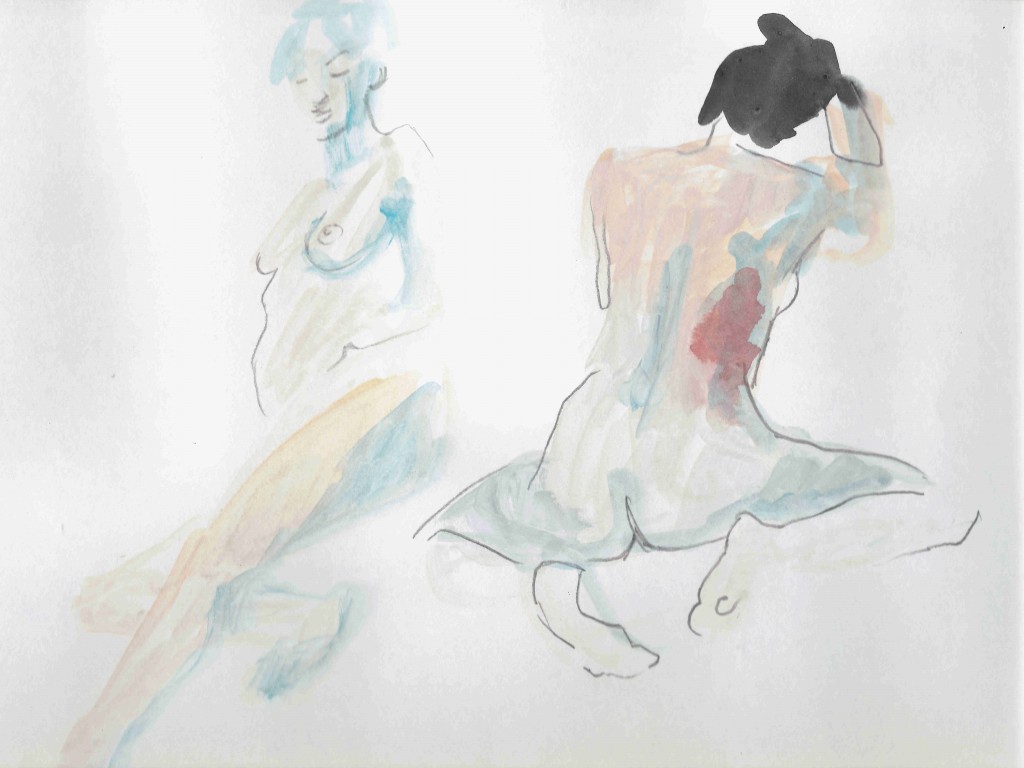 I have to share these wonderful pictures my daughter Elizabeth mailed to Eileen and me. I love her work. I'm biased I guess. But still. It is lovely stuff.
Tomorrow evening I will "stagger across the finish line" of this three week ballet class dance marathon.
Last night I think I showed my fatigue a bit. I wasn't very happy with my last improvisation of the evening and then in what has become an unlovely aspect of my aging personality had difficulty letting this go and put it into perspective. It was a combination of physical and mental fatigue.
Yesterday morning I drove out to my one piano student's house and gave him a piano lesson. I managed to get my new netbook to talk to his home wireless.  I find teaching this person pretty fascinating. He is learning some Scriabin, Faure and Schumann piano pieces. When we went to schedule our next lesson he pulled out his Ipad and I, my netbook. He could look at his calendar on his Ipad but said he had to use his computer to enter info in it.  I'm pretty sure there's probably a way to enter information on it. It seems to me at this point that Iphones and Ipads would not be good for me because I find the keyboard such a necessary adjunct to my interacting with the screen.
The touch screen doesn't attract me that much, at least the way it is designed now. I think it makes for a limited interaction. It looks novel and fun. But I will be more interested when it responds to voice commands. Even then I can picture myself spelling out words my computer doesn't understand or gets wrong.
After my lesson I came home and treadmilled. The day went pretty quickly and it was soon time for me to play at my Mom's nursing home. My Mom wasn't feeling well so she stayed in her room, but the birthday party (for which I was playing) went well. I started off telling them the story of the Goldberg variations sort of like this:
"Bach had a student named Goldberg who worked for a Count. The Count had trouble sleeping and he asked Bach to write some music that he could listen to at night when he was awake. Goldberg, the Count's servant, stayed in a bedroom nearby. When the Count was restless at night, he would call out to Goldberg to come and play some of his variations (which is how the Count always referred to them).  There are 30 variations but I'm only going to play 2 for you today. I hope you don't fall asleep."
Cute, huh? Oh well you have to be entertaining in every walk of life these days. I didn't add the fascinating fact that the Goldberg Variations are often performed with the theme at the beginning and end of the performance. This brings the total movement number to 32 which is how many measures there are in the theme. Good old Bach!
I also played a bunch of popular tunes like "Hello Dolly," "Sunny Side of the Street," "Harbor Lights" (this one was one requested the first time I played there), "(They long to be) Close to You," and "Who's Sorry Now?" Later I played Debussy's "Clair de Lune" explaining that the title translates as "moonlight" but that the literal meaning is more like the "color of the light of the moon." After Debussy I played "Moon River." Clever, huh?
I was surprised that when I passed out hymnals and took requests I didn't get "In the Garden." It might be the first time I have done this kind of piano gig in a local nursing home where they didn't ask for it.
The audience sang along on the popular songs and also the hymns. I checked in on my Mom before I left.
Today I only have the evening Ballet Class to play for. I hope by then I will have managed to stop obsessing over my poor performance last night. Oy!
*********************************************************************