As I put out my American flag, I notice that my neighbor two doors down is still flying his. I try to follow American flag etiquette and bring in my flag each evening.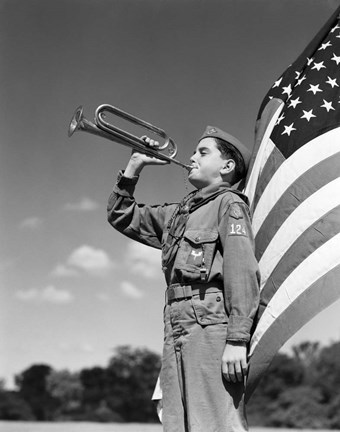 Sometimes I forget. The etiquette I know says that you can keep your flag up at night if it's lit. This morning my neighbor's porch light was on despite the gentle dawn light. I guess it's conceivable that it was his intention to follow flag etiquette.
I walk over to pick up my daily paper. My shoulders relax as I feel the morning breeze move over the neighborhood. As I once overheard a trucker say in the dead of an Ohio night at a truck stop: Another day in paradise.
I'm not that bitter but it's good to remember that I benefit from my country's paradise, largely built on the backs of other peoples not enjoying the fall of the planet not to mention my fellow countrymen and women who are not as fortunate as me.
A weird time to be alive. The planet is in full fledged shut down. My country is losing the shreds of democracy it has grasped at in its short little history. At the same time, I have a place to sleep, food to eat, and good health. Also I have a universe of information, beauty, poetry, and music at my fingertips via the internet.
Today is my last day to be in my sixties. Tomorrow I turn the big seven oh. My friend, Dave Barber, who is just a little older than me once told me that when he thinks about his own aging, he thinks to himself, huh, so this is what it's like to be 69 or 70 or whatever. it's a good attitude.
Today is also day nine of being retired from church work. I have a another friend who occasionally posts what day she is on in her retirement on Facebroke. I don't remember the number. it's in the two hundreds.
I feel fortunate and lucky in my life so far. If one lives and benefits from being fortunate in the lottery of life the least one can do is feel grateful.
I do.
I'm listening my way through Hari Kunzru's podcast, Into the Zone. The September 4 2020edition is called "That Ain't Country." I'm about half way through. I felt like I had it the lottery when Kunzru began to interview Kevin Young, a poet I like and admire about Cowboys. Life is good.
Killing people defending the planet. Who benefits?
"Colonialism is still running strong, even if it's dressed up with corporate logos or hidden with offshore bank accounts."
A 2008 article. The Herman Miller private complex sits right on a site with all kinds of local history.
Point Superior was the original site of the winter camp of Chief Ogamah Winine's Ottawa band. George Smith eventually convinced them to move to the Old Wing Mission site I mentioned yesterday. But before that white investors attempted to make a settlement there themselves. It's not clear how this affected the Ottawa band but it can't have been good. They bought the land from the state, platted nearly six hundred lots, built a sawmill, a blacksmith shop, and seven houses. But sandbanks blocked the easy access to Lake Michigan this outpost counted on and it quickly went bust.